Milled asphalt regeneration
Pothole patch material from used asphalt
Quality, reasonable price, environmentally friendly solution!

Advantages of the used/milled asphalt regeneration
✔ Based on an officially registered patent
✔ Cost-efficient
✔ Environment-friendly
✔Easy to use
Cold Perfect is a polymer-based bitumen regenerating additive that allows the used and accumulated asphalt to be recycled cost-effectively, without major investment in tools and machinery, in the form of a perfect pothole material.
The essence of the process is to add the bituminous regenerating additive to the ground-wet and used asphalt and thus obtaining a perfect quality pothole patching material that can be used even in winter or difficult road conditions.
Compared to hot asphalt, 20% of cost saving can be achieved, and 40-50% compared to cold asphalt by using Cold Perfect.
The advantages of the new technology:
It does not require any major investment, mixing and installation does not require special professional training.

It is not sensitive to the composition of any asphalt, i.e. asphalt used from asphalt concretes produced in the last 40 years can also be used for regeneration.

Mixing is done in a simple, large-scale concrete mixer or bucket mixer, which can produce 2-4 tons of asphalt per hour.

The finished asphalt can be installed for 10-14 days.

It also adheres well to ground-wet road surfaces, therefore it can be used in winter weather conditions.

Road traffic can be allowed immediately.

The finished repair has a long service life and is not sensitive to salt deposits on the cover either.

The technology has several references.
Hot-Perfect is also a polymer-based bitumen regeneration additive that mixed with used asphalt, results in a lifespan asphalt with a consistency as the original cover. The process can also prevent the large-scale carbon residue of bitumen by not having to heat the asphalt above 130 degrees Celsius.
During the process, the additive must be mixed with the used asphalt in a separate mixer.
The technology already has several years of reference works in several cities all around Hungary, and is extremely cost-effective as compared to hot asphalt 30-40% of cost savings can be achieved and 50-60% compared to cold asphalt.
It should be emphasized that the process is able to recycle used and demolished asphalt which is considered to waste, and is, therefore, more environmentally friendly than conventional processes.
Advantages of the technology:
It allows for lasting restoration on the pavement in all seasons.

Due to the good adhesion of the additive-modified asphalt, the asphalt placed at winter does not roll out within months, it remains in place, hence it does not need to be replaced with other pothole patching material.

The mixed asphalt is cleaned, but it also adheres well to wet surfaces, so the wet pots do not have to be dried, the asphalting work will remain durable.

Technology recycles the used and demolished and milled asphalt considered as waste, thus protecting the environment.

Asphalt pieces expanded from the road can be recycled on site, no need to take care of material removal.

In the winter, the vast majority of large asphalt mixers do not work, but regenerated used asphalt still can be used.

During the summer, an extra car does not have to go to the asphalt mixing site for asphalt, as opposed to procedures using hot asphalt.

The right amount of asphalt can be produced (even small and large quantities), no waste asphalt arise.

This technology along with operating costs is a cheaper alternative than hot and cold asphalt road repairs.
The base of the material is the 150/200 hydrogenated white spirit. Due to the hydrogenation, unlike conventional white spirits, it does not contain unsaturated and aromatic components, but at the same time effectively activates the surface of the old asphalt to receive the new layer. The product contains more than 15% special additives, so it does not qualify as an excise product, tracing is also not required.
The additive consists mainly of medium chain alcoholic components (e.g. hexylene glycol) and phosphate esters.
Alcoholic components provide an excellent transition between polar and hydrocarbon-based apolar asphalt components on wet surfaces. Phosphate esters are widely used adhesion improvers in asphalt technology.
It also contains a synthetic resin component and bitumen, which fill in the tiny gaps to create an adhesive bridge between the layers. The product is not subject to ADR.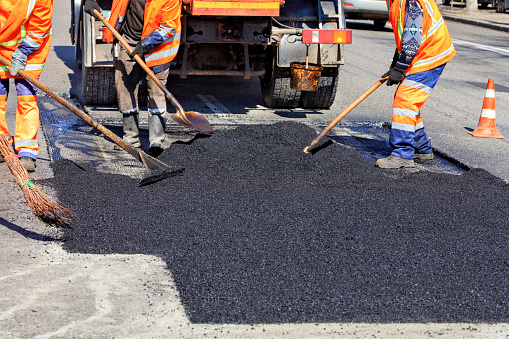 bakonyi.zoltan@polynom.hu